Oil Costs Cuts 'Could Save £15bn'
---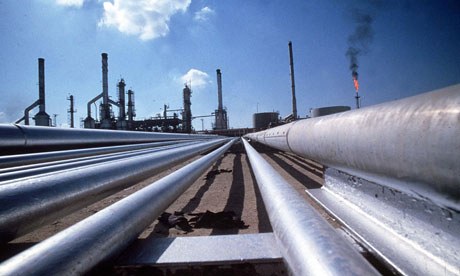 Falling oil prices, declining production and the rising costs of decommissioning could be tackled by operators making 40% efficiency savings over the next five years, professional services firm PwC said.
It follows an industry report warning that up to 35,000 UK oil and gas jobs could be lost over the same period.
PwC's oil and gas team said more could be done to reduce the average price of oil extraction from £17 per barrel to £14 to make programmes more affordable and safeguard jobs, with the industry decades behind other comparable sectors when it comes to cost reduction.
Their report found the declining price of oil has triggered a short-term "knee-jerk reaction", with businesses moving to reduce staff and cut rates for contractors.
The firm advocates an alternative "back-to-basics" approach to address "unsustainable" capital expenditure and operating costs.
It estimates major capital projects in the North Sea, currently valued at more than £39 billion, are overspending by an average of 40%.
Poor communication, slow decision-making, insufficient planning and unanticipated site conditions are all factors in driving up costs.
The report said: "We must go back to basics. By better understanding the issues of performance, risks, resource etc, and sharing this knowledge internally and externally we can start to deliver a long-term cost reduction programme for the North Sea which reduces capital and operational costs whilst maximising resource extraction.
"We need to move away from the short-term approach of reducing headcount and overheads, and start to embed cost-reduction principles into all parts of the industry."
Brian Campbell, energy specialist at PwC in Scotland, said: "We have known for some time that the oil and gas industry isn't the most efficient with its resources.
"But now it's finally crunch time, particularly in a climate where many firms operating across the North Sea and UK continental Shelf have been experiencing increased costs to produce combined with lower production levels over a sustained period of time.
"At an asset or installation level, for example, just doing things differently is not just about reducing costs. It is also about doing things more efficiently and intelligently, having a focus on those activities that add value, and creating the space and capacity to execute more activity for the same or less cost.
"If firms don't wake up to the problem and recognise that they have the ability to take control and make substantial cost savings while sustaining their operations, then we could see more projects mothballed in the near future. They have the power to effect change - it's time they used it."
A spokeswoman for industry body Oil & Gas UK said: "The oil and gas industry is realistic about the scale of the challenge it faces which includes a slump in exploration activity, decline in production and rising operating costs along with the significant fall in oil price.
"There is no single solution to bring down costs, however with strong commitment from HM Treasury to ensure the fiscal regime will regain its international competitiveness, the swift implementation of the recommendations outlined in the Wood Review and industry action on cost and efficiency there is potential for being a little more optimistic about the future."