Plea For United Action On Oil
---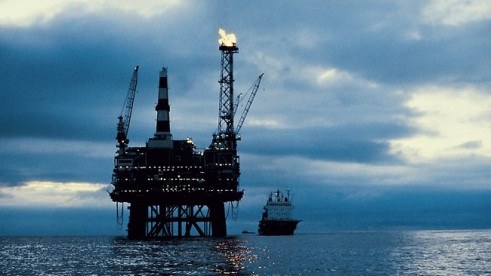 Both Ms Sturgeon and Scottish Secretary Alistair Carmichael took part in the talks, as did Scottish Labour leader Jim Murphy.
Senior figures from the industry, including Oil and Gas UK chief executive Malcolm Webb, were also at the summit, which was organised by Aberdeen City Council.
Experts have warned that the industry is in crisis, with a barrel of Brent crude more than halving in price since last summer to around 50 US dollars (£33) a barrel.
Hundreds of job losses, pay cuts and freezes have been announced by companies including BP, Taqa, Petrofac and the Wood Group in recent weeks.
Industry leaders and Labour and SNP politicians are now urging the UK Government to introduce urgent tax cuts to help the North Sea.
Speaking shortly before the event, Ms Sturgeon said it was a "very challenging time for the industry".
She told BBC Radio Scotland: "I think it is very important to be clear, though, that the North Sea oil and gas industry has been, is and I believe will continue to be a significant asset for Scotland and the Scottish economy.
"But it faces a challenge at the moment and that means it is incumbent on all levels of government to work together to provide the industry with the support it needs at this time."
The First Minister said the Scottish Government would produce new analysis of the impact of falling oil prices on the economy - but with changes expected to the tax regime in next month's Budget, she said this could not take place until after that.
Ms Sturgeon said: "In due course we will produce forecasts but those forecasts are very dependent on the tax regime because it is the tax regime that determines the amount of revenue that comes from the North Sea, so we need to see what the tax changes are that the UK Government is going to make before we can produce those reliable forecasts."
Mr Carmichael told the BBC it was "simply not true" that the UK Government had been idle on this issue.
He said : " There will be a Budget next month, and you've heard it both from the Chancellor and the Chief Secretary to the Treasury saying that it is understood that more will require to be done in that Budget.
"It is understood across government - in the Department of Energy, the Treasury and in the Scotland Office - that this is a significant moment in the history of the industry. As to what will be in the Budget, I'm afraid that's not for me to tell you today."
Jenny Laing, the leader of Aberdeen City Council, said that even before the drop in oil prices "the industry was telling us that they needed help within the industry to sustain the long-term future".
She told BBC Radio Scotland: "I would hope that governments at all levels will be paying attention to what the industry is saying, because for too long they have used the industry as a cash cow. In my opinion, it's now time for us to pay back and make sure we can sustain the long-term future."
Mr Murphy has called on the Scottish Government to introduce a £10 million resilience fund to help areas facing financial shock.
He said: "A resilience fund would enable a local authority to take immediate action to offset some of these problems such as offering business rates relief or setting up training opportunities for those losing their jobs.
"The fund would only be used in the event of an area facing a substantial economic shock. The comparison I made previously was with the effect on Lanarkshire from the closure of Ravenscraig steel plant."
Council leaders are hoping both Westminster and Holyrood will back a £2 billion city deal for the region.
Ms Laing told BBC Radio Scotland: "We have definitely had public support from all parties across the board which we welcome and I would hope that it will give us an opportunity today to showcase the city deal that we have on the table and hopefully we will get approval for that in the not too distant future."
Ms Sturgeon said she was "very enthusiastic about the prospect of a city deal".
The First Minister stated: "My officials are already in discussion with Aberdeen City Council about the detail of their proposals for a city deal and I'm very keen that we continue to take that forward."
But she added it was important for ministers to know "the detail of what a city deal is intended to deliver" before the Scottish Government could decide how much it would contribute.
The SNP leader stressed: "It's important that we do this in good order but I am very clear that I am signalling today an enthusiasm on the part of the SG to be a full part of those discussions."
Mr Carmichael said: "I have always been very clear that I could see a tremendous opportunity for the Government and for Aberdeen and Aberdeenshire in getting a city deal of that sort landed.
"It's not for me to announce what money is going to be available today. That is something that we have already made clear will be coming forward in the budget."
Andy Samuel, the chief executive of the new Oil and Gas Authority (OGA), has announced the first three appointments to his leadership team.
The regulatory body was set up following Sir Ian Wood's review of the UK oil and gas industry in 2014, with Sim on Toole, currently head of offshore licensing, exploration and development in the Department of Energy and Climate Change (DECC) will become director of licensing and legal.
In addition Stuart Payne has been appointed as director of change and organisational development, and will lead the design and ongoing development of the OGA organisation with responsibility for managing human resources, while Ian McKenzie has been appointed chief implementation officer, and will head up the finance, procurement, internal audit and IT activities.
Mr Samuel said: "I'm delighted to announce these important appointments which are central to the development and success of the Oil and Gas Authority. I will continue to build on the expertise and strengths of the existing team, ensuring we have the capability and capacity to drive a focused strategy that maximises economic recovery of oil and gas resources in the UK.
"The fall in the global oil price has brought into sharp focus the urgent need for industry and government to take proactive and sustainable action. Since becoming chief executive in early January, I am pleased to see a strong partnership continuing to develop between industry and government. In late February I will outline my early findings on the commission requested by the Secretary of State and seek to prioritise action and focus delivery.